---
Buying Breeding Rights
Buying a Bengal kitten with Breeder/Show Rights places you on a separate list from the Pet Buyers. This separate list offers First Pick of particular litters. This common practice among breeders ensures you get the selection and breeder quality you are looking for in a Bengal cat. People may also get onto this list and pay this price to get a Breeder/Show quality kitten as a pet to simply get exactly what you want when you want it in the least discernible time possible.

The cost to buy a Bengal cats breeding rights is currently
$1,500 with an upfront deposit of $1,000. This is in addition to the cost of the kitten.



Registered Bengals sells kittens with breeder's rights under certain conditions. Finding the right home for a Bengal kitten with breeding rights is our priority. Understanding your goals and what are your expectations of breeding are, along with what kind of lifestyle and environment you plan to provide will help us determine if there is a fit.



When you purchase breeding rights from Registered Bengals you will receive certified paperwork that will allow you to register your new Bengal kitten with The Cat Fanciers Association CFA and The International Cat Association (TICA). Once registered with CFA and or TICA, you will have breeding rights which will allow you to sell your kittens as CFA or TICA registered and showing rights which will give you the ability to compete at CFA and or TICA sanctioned events.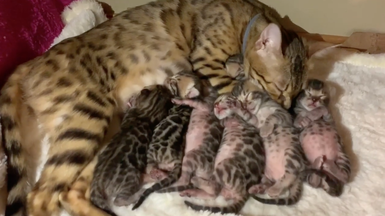 We guarantee that all kittens sold with breeding rights have the ability to breed. If it is found that your purchased Bengal is sterile, (with veterinary proof of sterility), you will be placed at the top of the list to receive
a replacement Bengal kitten of equal value.
​

---
---